85
Fishing rules
General rules for anglers with a fishing license Bolmen FVOF

The boundaries are:
At Storån by the mill at Slättö.
At Önne stream at the bridge by the road between Unnaryd and Odensjö.
At the outlet at the power station at Skeen
Apart from these boundaries there are boundaries at the outlets of the different streams into Bolmen.
Prices of fishing licence permits
Bolmens Fvof upplåter fiske till allmänheten genom att sälja fiskekort. Från 2022 gäller följande kortpriser:
Dagskort 150 kr
Veckokort 350 kr
Årskort 800 kr
Familjekort 1 000 kr
Angling competion 20 kr per person and day
Company permit 2 400 kr
Rules where an inspection fee may be taken at infringements of rules
For trout where the minimum size is 50 centimeters
Fishing ban in Önne stream all year
Fishing ban in Storån from the 15th of April until the 15th of June.
There is a maximum amount of fishing tools (lines or baits) per permit. A family card allows two lines and two baits per angler.
The fishing limit for pike-perch is 10 for each permit and day
The inspection fee is 2000 kr.
Other rules for buyers of a fishing license permit
The permit is personal and cannot be transferred to another person
Fishing is not allowed nearby fishing nets or other fishing tackle so that these may come to harm.
The permit gives the user the right to fish in Bolmen lake according to the rules where only fishing devices such as fishing rods, jig twigs, casting rods, fly rods or spinners/troll angling are allowed.
Ice fishing is only allowed when there is ice on the lake. At the most 10 ice fishing devices are allowed per permit. The fisher may not leave his ice fishing devices and must keep them under constant supervision at all times.
The fishing license permit or the check number of the iFiske´s permit must be available at all times during fishing and be shown on demand by police or water bailiff. Fishing tackle must be taken up at inspection to facilitate inspection. Youngsters at the age of 18 years or younger may fish without a fishing license permit but follow the same rules as other fishers with a fishing license permit.
To be able to buy a family fishing permit all family members must be registered at the same address as the buyer. All names of those given right to fish must be written on the permit. A maximum of two fishers are allowed on a family permit.
The largest size allowed for trench is 75 centimeters. Larger trench than that must be reset in the lake.
Catch and reset is not allowed for trench under 75 centimeters.
Fishing devices are not allowed in deeper water than 10 meters.
Fishing competitions only allow fishing with rods and jig twigs.
A company license permit consists of four plasticized cards with the company name on it, one fisher per card. It can only be issued by the treasurer of the company. It may only be used by employees of the company. Customers and suppliers may not use the company fishing license permit.
 Information
We sell maps with information of depth. These are available for purchase at our retailers.
Fishing card requirements
För att kunna fiska i Bolmen behöver du ett fiskekort. Detta kan köpas digitalt eller hos försäljare, och finns för dag, vecka eller årskort.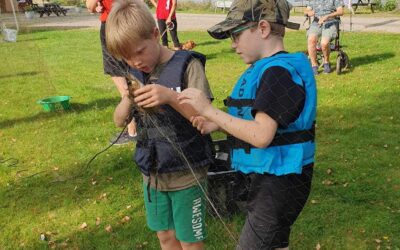 Vi har haft fisketävling i Angelstad och isättning av risvase i Gavlö. Se fler bilder på vår Facebook-sida.
read more